Pam & Anthony
WOW, OMG!!!!! Jesse, you are AMAZING. We just arrived
and are in awe at your work and craftsmanship!!! Holy cow,
the floor and shower are simply gorgeous. Thank you so
much!!! We will touch base tomorrow as planned:)
—Pam & Anthony
Monica & Dave
I wanted to let your company know how thankful we are for the job that Jeff and Jesse did with remodeling our house into that of our "dream home". It is a pleasure everyday that we live here to experience the improvements made by your company and staff. Everyone who comes to our house and sees our walk-in bathroom and patio that you did, comments on how amazing they look, and, friends who are in the construction business, tell us that the quality of workmanship is excellent.
Thank you so much for your attention to detail and a job well done!
—Monica & Dave
Kristin & Cory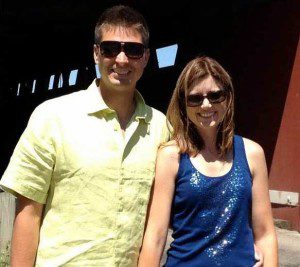 If you're looking for a general contractor/home remodeling services, I highly recommend McKee Construction & Remodeling. My husband and I recently purchased an older home which we have been remodeling from top to bottom. McKee has overseen every aspect of the project, from structural engineering to a new roof to a new kitchen. I can't say enough about owner Jesse McKee and his crew. They are timely, professional, honest and have made this entire process virtually painless. In addition to the quality of the work, I appreciate how respectful of our property his crews are in terms of cleanliness and care. Six months after the bulk of the remodel, McKee has been extremely responsive to minor questions and concerns. We are thankful to have found such a great partner in this project.
— Kristin C
Clay
Jesse,
I wanted to just send you a short note to tell how much I appreciated the work done on my bathroom. My wife and I have thoroughly enjoyed the new shower and have showed the work off to many friends in the neighborhood. I am also grateful for the work you have done on my other properties. It is nice to know someone that is honest and has integrity in their work. Many times when I could not make it to the job site it was nice to know that you would get there, do the job. My houses are looking better then when I left them.
Sincerely:
—Clayton A
Farmer Real Estate LLC
Owner/Broker
Nettie
Jesse was very professional and provided great suggestions, but he left the decisions up to me which was important. I'd had several people tell what they wanted and could do without considering what my vision was. Jesse put in the time that was needed to make sure that everything was done right.
I was very glad to have used Jesse McKee and would definitely recommend his service. He is a true professional, has amazing attention to detail, is very experienced, amazingly creative, trustworthy and knowledgeable… Can't go wrong!
—Nettie
Connie
To Whom It May Concern;
It is a pleasure to have the opportunity to recommend a company with which I have had an extremely positive experience. Jesse McKee is an outstanding contractor. His knowledge base is extensive and there is no issue that he cannot address. He is meticulous in his work and he takes great pride in it, as he should. I have had extensive painting both inside and outside as well as plumbing and electrical work. After an extensive flood, he replaced drywall and rebuilt a linen closet. Jesse and his crew are prompt and totally reliable. They leave the workspace immaculate after their day's work and are very adaptive to any needs you may have.
I recommend Jesse Mckee with no reservation. Personally, he is highly intelligent, personable and a real gentleman. You will be greatly pleased with his work.
—Connie
Helen
Last year in 2011 I treated myself to a complete master bathroom remodel and along the way I met Jesse. It was my lucky day as I contracted him to do the job after considering many quotes from various contractors.
I found his work was exceptional and innovated. He and his crew were courteous and conscientious and they exceeded to please the customer. The work was completed in a timely manner and turned out fantastic.
I would highly recommend him for any remodel job.
—Helen E Z
Diane
I needed some work done to the outside of my house, removing pop-outs from around the windows and the front door, and security doors installed. Jesse was recommended to me as a trustworthy and dependable person. I was also looking for some suggestions to redo my back-yard and after two weeks I have a professional, beautiful (friends are jealous) back yard, and a much cleaner eye catching front yard. Jesse promised to have all the work done in two weeks and he, Daniel, Jeff and Jared worked for over 14 hours the last day and even power washed the street when they were finished.
I would recommend this team for any work you need, not only are they hard workers, but great men and I consider them all friends!
—Diane L
Kevin & Kathy
I've known Jesse for several years now and have always known him to be an honest and trustworthy person. So, when we needed our downstairs bathroom re-done, I called Jesse.
He is very professional and passionate about the work he does. Our bathroom turned out just great! The workmanship is solid and now this bath really is the star in our home.
I highly recommend him for any home beautification project, from large to small.
—Kevin & Cathy B
Martha
McKee Construction and Remodeling did considerable work for me on the exterior my house and guesthouse. Their estimates were fair and accurate. Their work was done with enthusiasm and expertise. They have the rare ability to notice things that could be potential problems and suggest a way to prevent them. They manage their time well; come when scheduled, on time. They are a pleasure to work with in all respects.
—Martha C
Jean
McKee Construction and Remodeling is a highly professional and courteous company I am especially impressed with how clean they leave the workplace. They have done numerous jobs for me and I am a very satisfied customer. They are a blessing.
—Jean W
Rebecca

June 24, 2012 – The contractor that was supposed to do the remodel kept saying he would get it done but it never happened.
In comes Jesse. Jesse went thru my house and assessed what had to be done. The work began.
I think my neighbor said it best. "Your floor is my dream floor". He liked everything that had been done, but the floor is amazing. I have had a parade of neighbors in and am now the envy of the neighborhood.
Not only does Jesse have a heart as big as the world, he is a contractor that can walk thru and assess what needs to be done in a minimal amount of time and have his crew on it. There is no wasted effort and indecisiveness that could cost a homeowner more money. Any homeowner would be lucky to have him do their work.
Thank you Jesse,
—Rebecca
Top